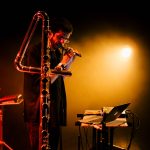 I come from Belo Horizonte (Brazil) and have been living in Malmö (Sweden) since 2011. From early on I have been interested in and involved with different kinds of music, having played with rock bands (Nono Osso),  chamber music groups (flute and guitar Duo Tramanduá, flute quartet Pé di Sí, woodwind quintet Capixaba), orchestras (Orquestra Sinfonica do Espírito Santo), and soundpainting ensembles (The Swedish Soundpainting Orchestra, International Soundpainting Think Tank Ensemble, Soundpainting BH). Teaching, performing, and researching have been deeply interrelated in my career. Since 2011 I've been exploring artistically and academically the affordances of soundpainting as compositional and performative medium through which artistic awareness can be raised as different forms of artistic expression become weaved together in performance.
Education:
(2016) Doctor of Philosophy in Artistic Research in Music at Lund University—Malmö Academy of Music, with funding from the agency CAPES from the Ministry of Education of Brazil. Supervisors: Prof. Dr. Anders Ljungar-Chapelon (Lund University, Royal Northern College of Music, Grieg Academy) and Prof. Dr. Antônio Carlos Guimarães (Universidade Federal de São João Del Rei);
(2005) Master of Arts—Music at The University of Iowa—School of Music. Supervisor: Dra. Tamara Thweatt;
(2003) Bachelor of Music at the Universidade do Estado de Minas Gerais—Escola de Música. Supervision: Prof. Dr. Fernando Pacífico Homem.